---
Wind or Hail Storm Damage? Premier Home Renovations Has You Covered.
How does hail or wind damage the house?
Noticing wind & hail damage to your home may not always be as obvious as you'd think. Sometimes the untrained eye can overlook signs of serious damage, so it is extremely important to have a qualified professional inspect your home after any severe weather.
Common signs of roof damage consist of:
Missing shingles
Dark spots or bruises on shingles
Cracked or broken shingles
Granule loss
Lifted shingles with broken glue seals
These can all lead to leaking which can result in serious water damage, mold formation or wood rotting and compromise the structure of your roofing, causing it to collapse.
What to do After a Storm
If your roof is leaking, it is important to prevent additional interior damages. Premier Home Renovations offers emergency tarping and cover up services. Oftentimes, hail and wind damage is difficult to see from the ground. What appears to homeowners as minor damage, such as one or two shingles missing, will compound into total roof damage down the road.
Premier Home Renovations representatives are all well trained and experienced at inspecting homes for storm damage. Countless times our representatives find damage that is missed by both homeowners and insurance adjusters.
Premier Home Renovations Insurance Restoration Process
Examples of Hail Damage:
Signs of Wind Damage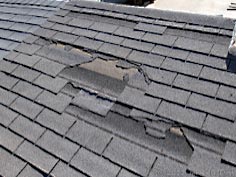 The evidence for wind damage can range from missing shingles, which can be seen from the ground, to lifted shingles with broken glue seals.
Asphalt shingles adhere to one another utilizing a strip of adhesive called a glue strip or sealant strip. When High winds break this seal, debris and dirt are blown into this glue area. This is like taking a piece of tape, running it along the floor, then turning around and trying to stick it to the wall, only having it fall back to the ground.
These shingles will often not re-seal. It is very important to have Premier Home Renovations inspect your home after any major windstorm to assess damage. Having worked in countless hurricane and wind storm areas, Premier Home Renovations representatives are well versed in identifying wind damage on homes.
Claim Filing Process
THE INSPECTION
If we find damage to your property, your representative will present detailed photos of damage. Photo documentation of all the damages will be taken as proof to provide to your insurance company to justify your claim.
FILING THE CLAIM
You will need to call your insurance company and file a claim. Many times one of our representatives can sit down and do this with you. At this time you will be assigned a claim number, this will be used to track your claim throughout the claims process.
CONFIRMING THE INSURANCE INSPECTION DATE
Usually within 24-48hours the insurance adjuster assigned to your claim will call you with a date and time that they will be at your property. It is VERY important that you write down the adjusters name, phone number, and time that they will be there. Please informed this contact information on to your Premier Home Renovations representative.
MEETING THE INSURANCE ADJUSTER
It is very important that we are able to meet your insurance adjuster at your property to represent your best interest during the insurance meeting. Our goal is to guarantee that your roof and repairs are approved for replacement on the date of the inspection. If we cannot meet with your adjuster, it is possible that certain items that should be replaced may be overlooked, or only partial repair of your roof may be approved. To avoid such circumstances, your Premier Home Renovations Representative will need to know the date and time the adjuster is scheduled to be at your house.
EVALUATING DAMAGE WITH YOUR INSURANCE ADJUSTER
Your Premier Home Renovations Representative will arrive early to the insurance adjustment to be fully prepared. During the meeting, our representative will show the adjuster all the damages discovered in the original inspection. The adjuster will confirm the damages and prepare a written Summary Report going over all the property damage and the amount they are currently estimating the losses to be. This Summary Report may be completed on-site, email or mailed to you.
PROJECT SPECIFICATIONS
Once you receive the Summary Report contact your Premier Home Renovations Representative to sit down and go over all the details and line items. During this time, we will also go over all the project specifications, products, and colors being using to restore your home. Premier Home Renovations Representative will schedule the work to be done.
Call today to learn more and schedule a complimentary inspection