---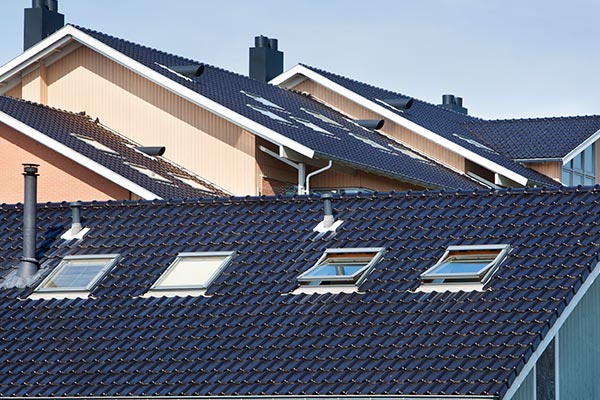 Skylights bring in natural light and can ventilate living areas with fresh air.
Skylights have been a popular roof accessory for many years and have only gained in popularity as they become more advanced. Today, skylights can be electronically opened to let fresh air into your home, they can have built in sensors that detect rain and sunlight, and can even have built-in, fully-automated blinds custom matched to your home's decor. Skylights can drastically change the feel of a room by providing a brightness and light source that can only be achieved through natural light.
At Premier Home Renovations, we offer quality skylight installation throughout the Tri-State Area.
Skylight Repairs
If you think your skylight might need a repair, don't wait – call right away. The longer you wait the more costly your skylight repair will be. Some signs that your skylight needs to be fixed or replaced include:
A lot of condensation
Discolored and/or bubbling drywall
Open seams
Roof debris or any other roofing damage
Water stains
Remember to check both the interior of your home and the roof exterior! If you see anything abnormal at all, don't hesitate to contact our skylight specialists. Whether your skylight repair involves new flashing, resealing or calls for a replacement, Premier Home Renovations has you covered. For quality, reliable skylight repairs in your area, we are the company you need!
---
Great reasons to replace your existing skylight with The Solar Powered "Fresh Air" Skylight:
Fresh Air – adding fresh air and ventilation to your home is essential to our health and well-being.
Improved Energy Effieciency – VELUX "No Leak" skylights offer Clean, Quiet, and Safe glass that provides more daylight and better heat control than any other glass previously offered.
No Leak Warranty – The No Leak Skylight carries a 10-year installation warranty plus 20-years on glass, 10-years on product, and 5-years on blinds and controls. The Solar Powered "Fresh Air" Skylight also installs just like our other VELUX models and requires no wiring.
Save Money – The most convenient and affordable time to replace a skylight is during re-roofing. Most installers will charge up to double to replace a skylight as opposed to replacing them while installing a new roof.
Your new Skylight is eligible for a 30% Federal Tax Credit. Receive an average of $850* on product and installation with federal tax credit eligibility. *For more information visit www.veluxusa.com/taxcredits
The Solar Powered "Fresh Air" Skylight features a solar panel that captures any available daylight and uses it to recharge a highly efficient, fully concealed, battery powered operator and control system.
The battery powered operator is the power source that opens and closes the skylight and the solar panel serves as the charging source of the system.